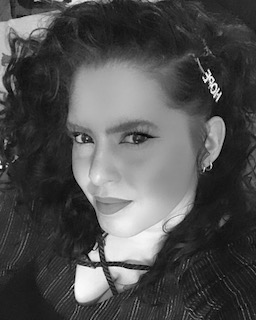 Meet Milly!
How long have you been teaching music?
Milly: 12 Years
What inspired you to teach music?
Milly: I have always loved music and the performing arts, but was often told it would not make for a secure career. I considered teaching English until my music professor Dr. Warren expressed that I would make for a good music teacher. I had and continue to have such respect and admiration for her so I knew if she believed I was capable, than I could certainly be successful.
What is your favorite instrument?
Milly: My favorite instrument is the voice. I find it so intriguing how our bodies are capable of producing such intricate sounds. I am also amazed at how unique everyone's vocal timbre is and how rich musical textures can become when singing in ensembles.
Any musical tips for teachers?
Milly:  My two tips for music teachers would be 1.Stay current. Often times as teachers when we find a technique or method that works, we stick to it sometimes longer than we should. This causes our teaching to remain stagnant, students become complacent and disengaged, and we are not growing as professionals. Only change is constant, so we must keep up with the times if we want to be truly impactful. My second tip for music teachers would be to genuinely listen and remain open-minded with your students. Many of my predecessors had a "my way or the highway" mentality, but in my own experience when I listened to my students' needs/suggestions, not only did it bring us closer as an ensemble, but my students performed better because they were directly involved in the music selection process. When they truly enjoy what they are performing, students rise to the occasion and perform their best.
Any advice for parents?
Milly: My advice to parents would be to please keep an open mind if their child has an interest in pursuing a career in the performing arts. Unfortunately, becoming a musician/performer is directly associated with being a "starving artist." There are so many career options within the arts, and when someone is truly passionate about their career field they tend to be more successful. Pressuring your child to pursue a more "stable" career out of fear or a lack of understanding is a detriment to their child's future.

Talk about a memorable teaching experience.
Milly: As a music educator, I pride myself in giving back to the community. My advanced choir the K-Birds often perform at hospitals, group homes, senior citizen centers, or in support of local organizations. One year, we hosted a vocal music workshop in which they performed for the elementary school choir free of charge. In turn, the elementary school choir was so inspired they decided to perform for my high school kids. It was a beautiful moment of reciprocity seeing my older students take on the role of student performers as well as student leaders. The energy in the auditorium was electrifying and the visiting students had a ball.

What methods or music books do you use to teach?
Milly: I teach Chorus and Musical Theatre at the high school level. While I do not have a set textbook series, I do enjoy combining materials for my Chorus class such as "Choral Connections"by McGraw-Hill, "Ready to Read Music" by Jay Althouse, "Thirty Days to Music Theory" by Ellen Wilmeth, "Know Your Music Terms & Symbols" by Veronica Harper, and "Alfred's Essentials of Music Theory" among others. Additionally, I order sheet music from Hal Leonard, Choral Music Direct, or J.W. Pepper. For my Musical Theatre class, we utilize two textbooks "Musical Theatre: A History" by John Kenrick and "The Creative Spirit" by Stephanie Arnold. Supplemental texts include "Theatre Through the Ages" by Michael Kramme, "Appreciating Musicals" by William G. Reid, "The Broadway Musical Quiz Book" by Laura Frankos, and "Broadway Musicals Show by Show" by Stanley Green and Cary Ginell.

Why is music so important to you?
Milly: To me, music is more than a leisure activity, it truly saved my life. I grew up in a poverty stricken neighborhood with high crime rates. My only safe haven was being part of the town's community theatre troupe. Not only did it "keep me out of trouble," it allowed me the freedom to express myself in a safe zone. No one can hurt you while you are on stage.. Additionally, music is the one thing that transcends age, race, gender, and socio-economic status. It has the ability to bring people together and has been proven to assist with other areas of human functions such as increased perceptual, cognitive, behavioral, affective, and motivational affects and student outcomes especially in those with special needs.

Who was your favorite music teacher and why?
Milly: I have been fortunate enough to have had great music teachers beginning in elementary school all the way through to my graduate courses at NJCU. My two favorites are Dr. Maredia Warren and Dr. Adria Firestone. Dr. Warren exudes such elegance and grace. Her musical knowledge is so vast and her delivery impacts all learning styles equally. She never loses her patience or raises her voice, when she needs to be stern she does so tactfully in such a way that inspires you to be your best self and rise to the occasion. Furthermore, she makes herself available to assist when she can, even now while she is retired! I know I can always reach out to Dr. Warren to help with my teaching instruction and musical questions.
Dr. Firestone was my voice teacher throughout most of my college career and has now become my mentor/career coach. On stage, Dr. Firestone is a beast having performed in Operas all around the world and even having a cameo on "Family Guy." While she pushed me to my limits vocally, her focus on the self has helped me become the professional I am today. She has taught me to be vulnerable on stage and in life, accept myself for where I am TODAY, and to be fearless in the pursuit of my dreams. When I allow doubt to creep in, she reminds me that there is always something more to strive for. I am truly grateful for her guidance throughout most of my adult life.

What was your favorite piece/song to teach and why?
Milly: One of my favorite pieces I taught this past December 2019 was a holiday song by Lisa Loeb called "Light" arranged by Andy Beck. This was the first time I veered away from traditional Christmas music and attempted a song associated with Hanukkah. While some of the traditions of Hanukkah are buried in the lyrics, the overall message of the song is that there is always more hope even when you think there is no hope left. Musically, the harmonies are rich, there is opportunity for call & response between vocal sections, and if done properly the dynamics can be breathtaking. However, the reason the song was particularly impactful this December 2019 was because a tragedy occurred in Jersey City (one of our neighboring districts) in which two assailants attacked 5 people at a Kosher grocery store in acts of hate and domestic terrorism fueled both by anti-Semitism and anti-law enforcement beliefs. If there was ever a time where hope was needed, this was it. As my students said, "the lyrics hit differently after that tragedy."
Any tips for teachers on transitioning from your class to an online setting?
Milly: I would definitely encourage educators to try to maintain human interaction with students while distance learning via Google Meet, Zoom, or other platforms that enable video conferencing. Worksheets, quizzes, and assignments can become monotonous during distance learning especially if all teachers are assigning work in a similar fashion. Most students crave that human interaction and do better when they see their teacher's on these virtual platforms. Also, give students the benefit of the doubt. Online learning was difficult for most, but not all students are "slacking off." Some students may not have access to the tools required to complete their work while at home, others may be caring for younger siblings or sick parents, some may have to share devices with other family members, and others may have become essential employees in the blink of an eye and have to provide for their families. I find that having some compassion and flexibility goes a long way when you truly want to make authentic connections with your students.
Any tips for parents on online learning
 Milly: The only advice I have for parents during distance learning is to not give up. We, the teachers are here to help you with your needs. We were all thrust into this situation and it has been challenging for us ALL. Parents, you are doing a GREAT JOB and you are appreciated!