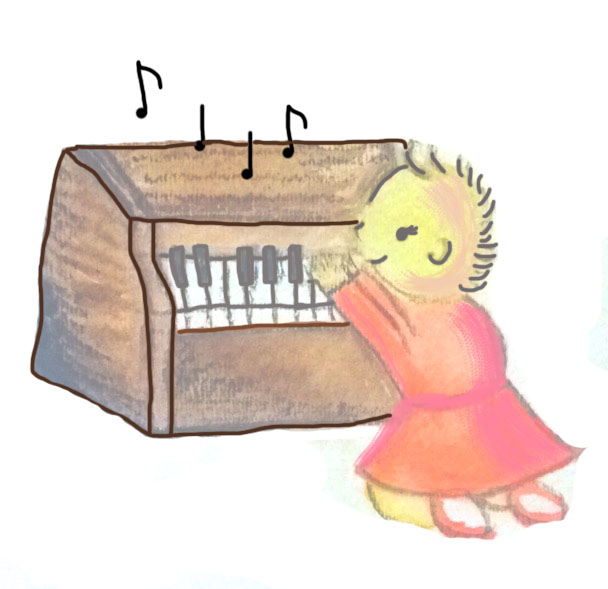 It is important for BOTH the mother, father, and/or guardian to sing lullabies to their baby and toddler. Firstly, it enhances a bonding experience between parent and child. Secondly, it helps babies and toddlers sleep. It is a distraction to help ease pain. It is beneficial to cognitive, emotional, and social developments in a child. It helps develop languages. It helps create routines for a child in a playful manner. For instance, singing a song to put toys away.
1. Bonding
A baby is able to recognize the mother's and father's voices when sung to them. They are able to recognize their voice as important.
2. Sleep
Lullabies help create a soothing bedtime atmosphere for the baby. Parents are able to control a bed-routine by playing or singing lullabies for their babies.
3. Eases Pain
According to Wellcome Trust's neurologist Tim Griffith, lullabies helped ease pain. He exemplifies in the following statements, "There's an ancient part of the brain in the limbic system which is responsible for the emotional responses to music," he said. "What I think is happening here is that the emotional part of the brain is being stimulated by music. This is decreasing the arousal level, and that in turn is affecting their pain response levels." Music creates a distraction from their physical pain or anxiety. For instance, lullabies help a child cope with their surroundings when they are afraid. (Hewitt, 2013)
4. Cognitive, Emotional, and Social Developments
Listening to lullabies help stimulate the child's brain. Parents who sing or play music to their child are enhancing cognitive, emotional, and social developments.
5. Language Development
Lullabies help babies recognize their parents' voices as well as their own names. It helps babies learn new vocabulary as well as listening. It is even better if lullabies are sung in different languages as well. A parent can begin teaching their child different cultures or their own culture by singing folk music or lullabies from their native country. As the toddler grows it also helps with rhyming, depicting patterns, and phenomic awareness. (Leavitt, 2009)
6. Routine
Singing lullabies can make putting toys away, brushing their teeth, bath time, or any routine – FUN! Toddlers respond positively when they are able to sing along! (Galvin, 2015)
Nemours. (1995-2015). Introducing Toddlers to Music. Retrieved from: http://kidshealth.org/parent/growth/learning/toddler_music.html# Galvin, Mary M. (2015 June)
ParentMap. (2009) Why You Should Sing to Your Baby. Retrieved from: https://www.parentmap.com/article/why-you-should-sing-to-your-baby Leavitt, Loralee" target="_blank">https://www.parentmap.com/article/why-you-should-sing-to-your-baby Leavitt, Loralee. (2009 March 23)
The Telegraph. Why Lullabies Really Do Send Babies to Sleep. (2015). Retrieved from: http://www.telegraph.co.uk/culture/music/classicalmusic/10412984/Why-lullabies-really-do-send-babies-to-sleep.html Hewitt Ivan. (2013 October 30)