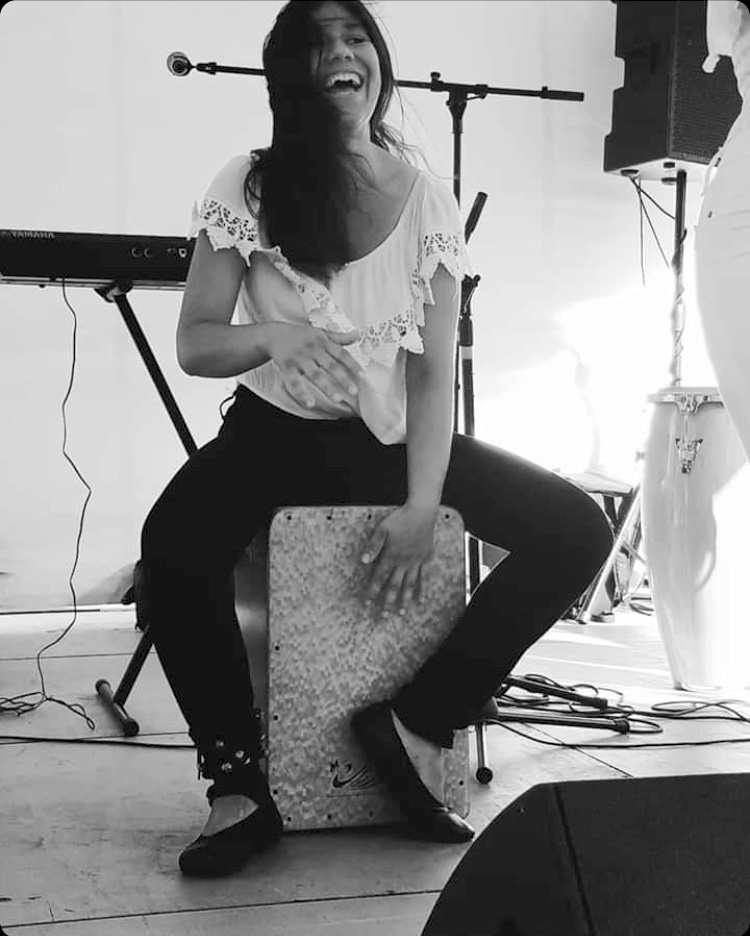 Meet Carmen Arrojo!
How long have you been teaching music?
Carmen: I have been teaching music, specializing in percussion, for five years. However, there is a long journey ahead.
What inspired you to teach music?
Carmen: When I turned 16, I started working at a place called Camp Liberty in Jersey City. During my ninth year there, the camp staff bought drums for the children. There were several children that loved playing music with me and my coworker , Sam Oliver. I loved seeing the young ones excited and determined to learn something. I loved seeing them focused in a healthy way.

What is your favorite instrument?
Carmen: It's hard to name one favorite instrument. My top five are, bass (electric and upright), acoustic guitar, cello, marimba, and all earthy percussion instruments.
Any musical tips for teachers?
Carmen: A good tip for teachers is to really listen and get to know the students for who they are. Learn their likes, their dislikes and pay attention to their personality and how they respond to the materials you offer. It will teach you how to guide them and empower them. They already have music inside of them. We just facilitate an environment in which they can cultivate that gift.

Any advice for parents?
Carmen: Parents should see if their children feel forced into music. If the student loves it, they should be on the same page with the teacher and encourage their child at home.
Talk about a memorable teaching experience.
Carmen: My oldest student went through a traumatic experience during a lockdown at her school because of a shooter on the loose in the town. When she arrived home, she wrote a chord progression on the marimba for her own song. The next day, during our lesson, we wrote a melody. This is only one small instance. There are so many more that bring so much joy and gratitude.
 What methods or music books do you use to teach?
Carmen: I use different method books. For mallet percussion, I rely heavily on the Morris Goldenberg text. For congas, I use Michael Spiro's method book and an Alfred's edition for the young ones. For cajón, I turn to YouTube and old recordings from lessons with my own teacher. I also use stories and tell my students about the folklore and traditions tied to the instruments. They are ,after all, highly based on oral traditions and spiritual journeys. It is an echo to the rich past of the Earth.

Why is music so important to you?
 Carmen: Music is the most important thing. I am music and music is me. It is what carries me home after days of arduous work. Music is what I carry home to feel home because of the people whom I have found home in. Music is the dance between silence and sound that lives in every single person's heart. It is what connects us to the intangible and shows us that we do not exist alone. It is everything.
Camen Arrojo offers her teaching services remotely. Reach out to her for questions!
Follow Carmen Arrojo on her Instagram: www.instagram.com/carmenarrojo
She also has her education Percussion Discussion Youtube Channel:https://www.youtube.com/channel/UCzJEG1Yj-L1CQX_hfj5E16w" target="_blank"> https://www.youtube.com/channel/UCzJEG1Yj-L1CQX_hfj5E16w